Call Titan Hvac for all your roof top AC replacement needs. Our roof top replacements are done with precision and attention to detail. We will remove and discard the old equipment. Clean the existing curb's gasket material off and then apply new gasketing to provide an air tight seal for the new equipment.
If a curb adapter is required, then the same existing curb preparations will occur with the edition of gasketing adhesive being applied to the top of the curb adapter as well, before setting the new packaged unit on top.
What to expect from working with us:
Precision and attention to detail
Removal and discarding of your old equipment
Proper manufacturer's start up procedures
Our results and findings are shared with you
Before and after pictures are captured digitally and shared with you
Why Choose Us:
Quick Response Times
Existent Communication
Accurate Diagnosis
True Transparency
Pure Professionalism
What our customers are saying
Corey Peterson has been in charge of doing all of our service work at Rappahannock Regional jail for the last two years. He is one of the most detailed and dedicated HVAC tech's we have ever had keeping up preventive maintenance at our Facility. He has torn down, cleaned and rebuilt three different types of Chillers and two different type Boilers as well as 33 Roof top units and 12 split systems throughout our facility. He is one of the most knowledgeable and honest technicians we have ever had. We would like to thank him for his dedicated service.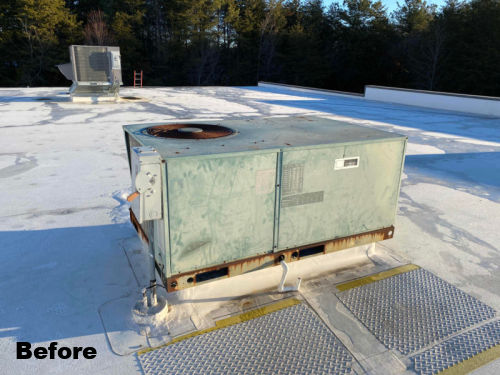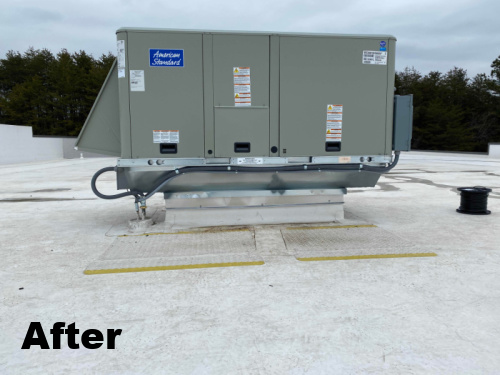 What to look out for with other companies
Not all companies are created equal nor do they put in the extra effort to make sure your roof top unit is installed and running correctly. Here are some items to look out for and be aware of.
Proper roof top disconnect installation is an issue. It can be a safety issue for people and for equipment.
Curb preparation or lack there of can cause air leakage from the return to the supply or just suck a bunch of outside air in that the system isn't designed to condition.
Manufacturer unit start-ups are frequently skipped over as well. Some manufacturers have the start-up fill out sheets right in the manual that ships with the unit!
With Titan Hvac you won't have to worry about any of these issues. Safety is a serious concern of ours. Equipment installs will begin with a Lock-Out-Tag-Out procedure. We will share the results of the manufacturer start-up with you. Plus all of our work is captured digitally to be shared with you with before and after pictures!
Don't wait!
SAVE TIME
SAVE MONEY
INSTALLED RIGHT THE FIRST TIME
TOP NOTCH SERVICE
It's important to us that your unit/s are running efficiently.
Remember that regular maintenance can help cut down on emergency calls.
24/7 availability, 24/7 reliability is what to expect!